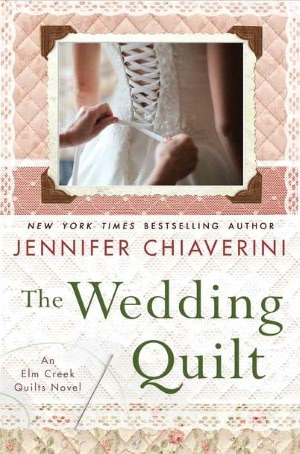 I just finished listening to "The Wedding Quilt" by Jennifer Chiaverini and narrated by Christina Moore. Listening to Christina now is like listening to an old friend tell a story.
I was surprised to have the book start out 25 years later as in 2028. Sarah and Matt's twins are now grown. One is working at Elm Creek and the other one is getting married and going to medical school. Sarah has become a well-known author on the history of quilts and proprietress of Elm Creek.
At first, I was a little disappointed and sad because I knew right away that many of the older quilters like Sylvia and Agnes would not be around for the wedding. I know it is part of life and it does go fast, but why did the series have to make such a leap?


Then I realized as Sarah started reminiscing that I would still hear all about my favorite quilters. In Jennifer's style of storytelling, "The Wedding Quilt" covered the past and the present as family and friends reunited to celebrate at Elm Creek. I feel like Jennifer was tying up loose ends from past stories. There's more than one wedding in this book, but I'm not telling who gets married.


I learned about Sylvia finding more information on her Cousin Elizabeth's family, and what Bonnie decided to do after she came back from Hawaii. I caught up with Gwen and Summer along with Diane's family. I heard more about the new members - Anne and Maggie. I even learned more about the Civil War quilters and their Union Hall. I would have liked to have heard more about Gretchen and her husband along with Andrew. They are mentioned, but not as much as the others.


Halfway through I began to wonder if this was the last of the Elm Creek series. It sort of felt like the end since a lot of unfinished stories were being given an ending. I did some quick research and found that some of the reviewers were making the same comment that this was the last of the series. I know that Sonoma Rose will be available soon, but that will be more about the past in California and not about the Elm Creek Quilters.


Fear not! I went to
Jennifer's blog
and in her FAQs she answered that very question. Here's her answer:
That's not going to be the end of the series, though, is it?!?
Sonoma Rose
is the last book of my current contract, but I have a verbal agreement with Dutton for a new three-book deal. At the present time, it looks like a contemporary Elm Creek Quilts novel titled

The Giving Quilt will be published in October 2012 as the first book of that contract. I will keep you posted!
At least, we know she plans to publish three more. I've got my fingers crossed for more than three books.
Mr. Cardinal