Travel Day! We are heading to Hill AFB near Ogden, UT. I'm not sure about traveling north so fast. We went from 94 degrees to 54 degrees in less than two days and this morning........34 degreeeeeess! Darn, now I need to pull out my sweatshirts again.
A view from Springdale. Outside Zion NP's gate.
So, before we move on, I wanted to share some more photos of our stay at the
Zion National Park
. I posted some different photos in our
2TooManyCats
blog if you want to see more photos. And of course, one of these days, I will upload all the photos to Flickr along with all the others that are overdue...
Day 2, we decided to do something easy and more level. We took the Riverside Walk to the beginning of the Narrows. We spent some time watching a few people coming back and heading out into the Narrows. Quite a few were wearing dry suits. The water was deeper than I remember from our last visit and it felt very cold. The visitor's center said the temp was 46 degrees. Brrr! I don't want to walk for two hours in that cold water!
Everywhere I look..I see tourists with food!
They are coming in by the busload!
During our walk, we saw lots of squirrels, lizards, flowers, and stunning views. I had a very sore neck from looking up all the time. Actually, I had a sore neck from most of our hikes.
It's a good thing there were flowers to view once in awhile or I might have had a permanent kink in my neck. Such a delicate flower with hardy roots living in the side of a rock.
Day 3, we drove to the east side of the tunnel. From the parking lot, we hiked the Canyon Overlook Trail. I know the photo below is not the best, but I was trying to get all of this tree's root into the photo. The root starts in the lower right hand corner and goes a good ten feet across the path (pass Beverly) to tree.
With that kind of root system, I can see why the trees are able to live and hang onto the cliff's sides now. That is one hardy tree!
Day 4, we hiked the Watchman's Trail. I was a little more worn out by this one with the higher elevation on a warmer day, but the views were worth every minute of the hike.
We came across some different flowers as we climbed higher...
...and coming back down the trail, we found this gorgeous cactus flower had opened to the sun.
My favorite was this lizard. Jay and Beverly are standing right next to this rock. We were not sure if this guy was wanting to pose for them or if he was guarding his rock.
Day 5, last but not least, we did the Pa'rus Trail and Zion Human History Museum. I think we were all feeling a little tired by then and ready for an easy walk...allll downhill.
Well, our time came to an end too quickly. Where did the time go?? We had to say good-bye to Jay and Beverly. We had a great time visiting and getting to know Beverly. I hope we can get together again soon.
On The Cutting Board
I plan to pick up my needle and start quilting while we travel north. In the meantime, I want to Thank Kat from
Kat and Cat Quilts
for nominating my blog for the Liebster Award. I do appreciate the recognition and I hope you will stop by her blog to say hello or visit her Etsy shop:
Kat & Cat Quilts
. She has some beautiful quilts in both! I like this pattern that she offers in her shop.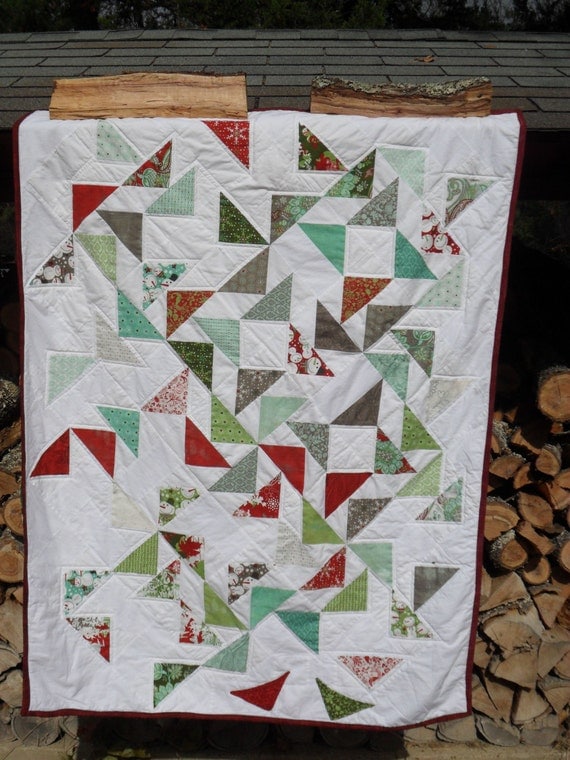 Fly South, charm pack quilt or throw
pattern by Kat & Cat Quilts
Happy Quilting!